Time-table for 2023 - 2024: Cultural Centre Swinford.
September Wednesday 13th - November 29th
January Wednesday 10th - March 13th
April Wednesday 10th - May 29th
2023 (September – November): is focused on Speech & Drama Syllabus from the Leinster School of Music & Drama. (Examinations are optional for students). The students will learn about poetry, reading aloud, Mine, Story telling, theory, solo acting and script reading. The term is eleven weeks, so there will be plenty of time to focus on creating characters and devising mini plays through group improvisations. There is an in-class showcase, where family can see the work that has been done during the term. 
All my drama classes are student centred, to insure full personal development in creativity and confidence.
What you will learn in my Drama Class:
A practical introduction to acting skills and exercises, focusing on vocal work, movement, improvisation and script work with a practical performance at the end of each term.
By using acting techniques and improvisation, you will focused on character development. Practical exercises are given to understand movement, how the body works, vocal work, creating different accents and finding objectives that will move your character.
Working with Props & Costumes
This is a lively and funny class. Props and costumes are used to create characters and story lines for plays. It is a great way to develop creativity and self confidence.
The aim is to take students through the process of making and writing a play. We create characters and work on ideas for plays through improvisation. Once the idea and the characters are devised, I write a script, focusing on students abilities and ideas. The students are fully involved in making the play and they develop a clear understanding of drama and the theatre.
Improvisation is brilliant in developing self confidence and creativity. Students learn to think and react on the spot, try out new ideas and explore and develop new techniques' in acting. Students will explore the principle of character development and movement.
Students are taken through valuable exercise's and technique's in improving their vocal range, vocal projection and creating accents. It is very important to have good projection for stage work in order for the audience to hear you clearly and enjoy your show.
Script Work is where the students will read and explore a script focusing on; the play structure, plot and themes. Students will act out the parts and by practical guidance will develop a clear understanding in how to read, interpret and create a character from a script.
2024 April : is focused on 'Creative Play'. Through many games and exercises in movement and vocal work, students learn to create characters and storylines in a fun and creative environment. Working with and making Mask's and puppets: This is so much fun in creating voices to match the puppets and creating stories.
Class work:
Scripts, poems & notes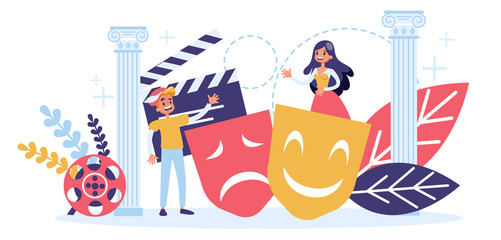 2024 Term Two January is focused on  Just Drama. This is where each class will create their own plays for the end of term Variety Night Showcase.
2024: Term Three April: Creative Play: Puppets & Mask Making. Dance & Singing.